Crumb, and Alan Moore's League
recent comic reviews by Mike Baron

Art & Beauty Magazine, 1 and 2

Written and illustrated by Robert Crumb, Fantagraphics Books, 4.95

The terminally irascible R. Crumb presents two books of female drawings from all over the map: contemporary cheesecake, sportswomen, glamorous stars of the forties, and street people. For those interested in the art of figure drawing, these are essential. Crumb's understanding of the female form blended with his own neurotic sensibilities produces the Crumb Woman, an Amazonian princess who could crush you between her thighs like a bug. Ain't no skinny legs in here. Book #1, the green book, features an idealized portrait of Crumb's wife Aline Kominsky-Crumb on the cover. Somehow I don't believe the real Aline is this attractive. But the alternative could have meant a concussion for the artist, so we must allow him his license. The drawings are astonishing for the play of light on surfaces. Crumb shows more understanding of light and color in his black and white drawings than many artists do in full color. His cross-hatching technique is superb. And the women emerge as individuals, despite the near uniformity of massive thighs and calves.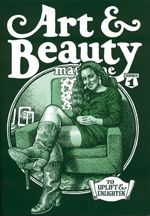 On the last page of book #2, Crumb throws in a couple of "artists" from Holland who look like concentration camp victims, just to show he can draw skinny. Crumb's commentary is pure bat guano. "In this pose, the sweeping curves of our model's long, magnificent legs combined with subtle shadow effects for an intriguing study reminiscent of the ancient GreekGoddesses." Yeah, right, and I'm the Pope. The commentary describes what the pictures show, interspersed with pearls of wisdom from the great artists. Never mind. You'll want this one for the drawings.

The League of Extraordinary Gentelmen 6

By Alan Moore and Kevin O'Neill

This is the comic that delivers a wallop-adult fantasy with brilliant characterization and emotional resonance. But of course, one expects no less from Alan Moore. For those just returning from Venus, LOEG is about a group of the greatest Victorian heroes and villains, Allan Quatermain, Captain Nemo, et al, banded together to fight evil. It's hard to believe that at one time Kevin O'Neill's art was virtually banned from comics, because his style, with all its sharp edges, was thought to be too disturbing for children. Unique, fascinating, and brimming with that insouciant line that is the goal of every serious illustrator, O'Neill's art is both loose and precise.

Allan Quatermain enjoys an assignation in the forest with Mina Murray that wouldn't make it on network television-not even on NYPD Blue. And they put it on the cover. The rest of the book contains no ads, furthering the conceit of a Victorian penny dreadful. Moore contributes a text mock documentary in the back which I have not yet read. Highly recommended.

Mike Baron is the creator of the award winning comic book Nexus and during his career has written an enormous variety of comics from The Flash to The Punisher. His first novel, Witchblade Demons has just been published and he is currently writing the Kiss comic for Dark Horse Comics.

Visit our Comic Book News Archive.