Screaming Eagle and Art of Mark Nelson
by Mike Baron

Screaming Eagle
Writer: Scott Deschaine
Artist: Mike Roy
Publisher: Discovery Comics, Price: $19.95 US

Screaming Eagle is a study of Indian spirituality in the face of civilized encroachment, simple, deeply moving, and beautifully-paced. This is a fat book, well over a hundred pages, but it is never dense. Compared to most manga, it's a zen garden of simplicity. When I learned Mike Roy had died recently of old age, I could hardly believe it. This looks like the work of a manga wunderkind, although Roy's characters are more realistic. He enlarges eyes somewhat, but the rest is minimalist magic. He was also an expert on Native Americans and contributed to the story.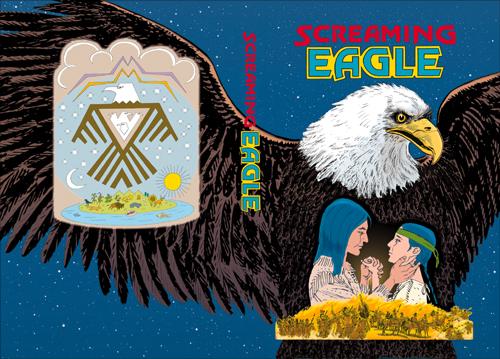 © 1998 Discovery Comics


An Indian boy seeks a vision by fasting. An eagle appears to him. A white trapper shoots the eagle. Everything grows from there. The story is not complex - many pages consist of a single image and there are numerous two-page spreads, some little more than reproductions of Indian designs and symbols. But it all works in the service of the story. This would have been a stunner in full color. Page after page of line tone and blackness can get dreary, but you can always skip over the mystical part. Kimi Weart did the gray tones. Well worth the trouble.

To order contact Scott Deschaine at P.O. Box 1075, Doylestown, PA, 18901.
---
From Pencils to Inks: The Art of Mark A. Nelson
Publisher: Baron Publishing, Price: $10.46 US

No, I didn't publish this, although I would have. Mark Nelson is the college art instructor and master of weird anthropomorphic beasts. He has done outstanding comic book work including Joe Lansdale's Blood & Shadows, Alien Versus Predator, and with this author, Clonezone and Feud. Nelson's style incorporates a medical illustration level of detail with a macabre sense of humor, superb understanding of the human body - and animals - and a soaring lyricism. The results are beautiful and sometimes disturbing.

There are three sections, pencils, inks, and sequential art. Once you start looking at his fantastically detailed pencils you may not be able to stop. Stunning women posed against exotic backgrounds which tell their own story. Nelson's use of silver pencil to highlight his clean renderings gives the drawings a finished quality. The armed, tattooed Oriental beauty poised in front of a temple fresco incorporating a demon's skeleton promises one hell of a story. Part anthropologist, part biologist, Nelson incorporates studies of every living thing from dinosaurs to insects. Bones. Lots of bones. I've been in Nelson's house and he collects bones. He has the reconstructed skeleton of a cat in a glass display just inside the front door.

The inked pages are mostly women and monsters. Nelson has a special affinity for anthropomorphic lizards dressed for war, sheathed in acres of black, offset by microscopic detail. The only knock against Nelson's art, his men are never as interesting as his women or monsters. "Crab Boy" is a funny, superbly rendered tribute to Hellboy, original to the book.

Baron also publishes Todd Borenstein's Visions of Curves, Sweet Dream Baby: The Art of Roger Humphries, and Cleopatra of the Nile, a collaboration between Borenstein, Nelson, and writer and Chris Snorek.
---
| | |
| --- | --- |
| Mike Baron is the creator of the award winning comic book Nexus and during his career has written an enormous variety of comics from The Flash to The Punisher. He is currently writing Faro Korbit for AP Comics, just released a Green Lantern novel for Byron Preiss (available on Amazon.com through the link on the right), and is working on several projects destined to change the face of pop culture in his secret skunkworks. | |

Visit our Comic Book News Archive.