Past pros bring Future Comics.
Freemind 1 review by Mike Baron

Freemind is Future Comics' first offering. Future Comics is essentially Layton, Michelinie, and Giordano, three accomplished pros who have been squeezed out of the mainstream comic pipeline. I find this ironic, as their talents remain undiminished, but the star-making machine demands new flavors and if they must jettison vanilla and strawberry to make room, so be it.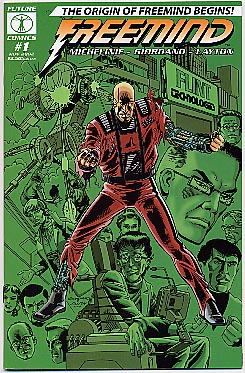 Freemind 1
© 2002, Future Comics


Freemind is about McKinsey Flint, a Stephen Hawking-level genius and quadriplegic who is able to transfer his mind, or parts of it, to a giant robot warrior which predictably runs amuck. The first episode consists of one long crash-fest as Michelinie introduces his doughty crew, a rainbow-coalition of tough-talking techs who snap hard-bitten dialogue at one another like a convention of drill instructors. Seems when Flint sought to transfer his mind to the dreadnaught, only his "id" went through, and as we all know, the id is tricky. No one has a responsible id. There are some intriguing sub-plots, particularly one about a power player named Ang seeking to recreate the glory of the Central Kingdom.

Too many characters for any of them to make a lasting impression, a situation which Michelinie is sure to remedy in future issues. What remains is a fast-moving tale of corporate intrigue with a warmed-over feel. The package itself is handsome, with Giordano penciling and Layton inking. It could just as well be the reverse. The art is excellent, smooth, and accomplished, with state of art coloring. You can order a Freemind #0 from their website . While this issue didn't blow me out of the water, it's enough for me to take a look at future offerings.

Mike Baron is the creator of the award winning comic book Nexus and during his career has written an enormous variety of comics from The Flash to The Punisher.

Visit our Comic Book News Archive.