Fort Collins Comics Collective update
by Mike Baron

The Fort Collins Comics Collective is a victim of its own success. I began our little group three years ago. Gabe Eltaeb, a charter member, recently went to work full time for Wildstorm in San Diego. Gabe's from San Diego so it's a homecoming for him. Pete Brandvold's take on Bat Lash is coming out even as we speak. The third issue of the IDW Badger just went on sale, drawn by former Boulder resident Kevin Caron. Kevin moved to Michigan last year when wife Katie got an art scholarship to make weird ceramic sculpture. Nick Runge and I saw our Black Ice begin publication with Comicmix before Nick fell hopelessly behind and asked to be taken off the book.

He simply could not draw a page a day and when you look at his art it's no wonder. Nick's replacement is another Fort Collins resident, Lee Oaks, who has been laboring in the fruity plains of Belgian publishing for the past four years.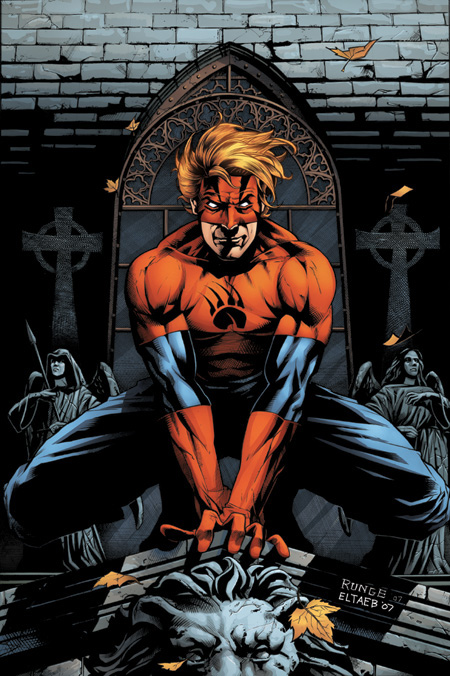 A Runge/Eltaeb collaboration


While Clive Barker's Books of Blood display a wild imagination, his longer fiction is more formulaic. I have just read IDW's massive TPB of The Great and Secret Show, 269 pages that took days to absorb. Chris Ryall's adaptation is true to the source material, spare, and literary, and Gabrielle Rodriguez' art is often stunning. The problem lies with the source material. Clive fails to bring his characters fully to life. I've noticed this in The Damnation Game, another huge potboiler, and in Barker's films, most notably Lord of Illusion.

Two wizards duel, resulting in four immaculate conceptions among the girls of Palomo Grove, California. As usual Barker has cooked up an elaborate pantheon of dueling demons. But they're left-field demons. They seem arbitrarily plunked down in the middle of a sprawling outline for an enormous novel that has yet to be written. As in Coldheart Canyon, there's a huge Hollywood party where ghosts mingle with the living. The book is fascinating and in terms of entertainment value fills the bill. But that one essential ingredient, a protagonist about whom the reader cares, is missing.
---
Mike Baron worked for the Boston Phoenix, Boston After Dark, and the Real Paper. He broke into comics with Nexus, his groundbreaking science fiction title co-created with illustrator Steve Rude. Baron has written Marvel's Punisher, DC's Batman, Deadman, and Flash. Nexus has garnered honors too numerous to mention, including Eisners for both creators. Baron has written Star Wars for Dark Horse, Turok, Dinosaur Hunter and Archer & Armstrong for Valiant, and has three issues of Legends of the Dark Knight in the works.

A prolific creator, Baron is at least partly responsible for The Badger, Ginger Fox, Spyke, Feud, and many other comic book titles. He currently has two new web comics up at Big Head Press. The Architect is a horror story based on the life of Frank Lloyd Wright. The Hook is rock and roll science fiction - think Farenheit 451 only instead of banning books they have banned music.

Volume 3 out now!



Visit our Comic Book News Archive.