Return of the Western
by Mike Baron

Don't look now, but the Western, America's arch-type of a righteous man against an unjust universe, is creeping back into popular entertainment. Comic books are leading the charge. DC's revitalized Jonah Hex is doing well thanks to Palmiotti and Gray's gritty scripts which pay homage not only to the movies, but to Michael Fleisher as well. ("Boy Fights" anyone?) DC is about to revive another Western character at the hands of a member of the Fort Collins Comic Collective. Marvel's testing the waters with the Marvel Westerns Hardcover. At fourteen bucks a pop, it may not be the best way to spread the word. Marvel has a new Ghost Rider series in the works that returns the character to his Western roots.

Dynamite is doing well with its Lone Ranger and plans to bring back Tim Truman's Scout. (Few writers can match Truman's knowledge of Indians. Truman illustrated several Jonah Hex mini-series written by Joe Lansdale.) Image has done well with Tinnell's and Vokes' The Wicked West.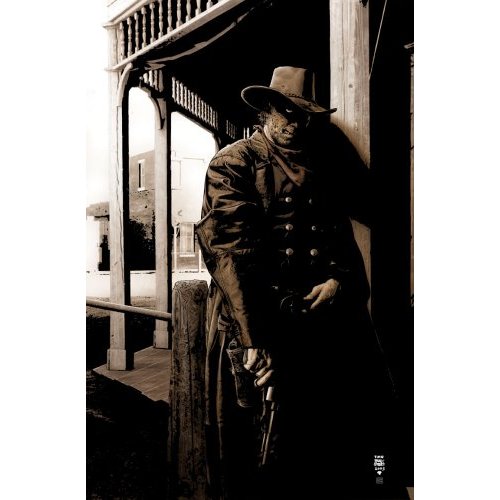 Jonah Hex: Face Full of Violence &copy 2006 DC Comics


IDW has introduced a new Desperadoes series, created by writer Jeff Mariotte. Mariotte knows his West. His previous Desperadoes series is notable for strong plotting, excellent characterizations and dialogue that doesn't make you cringe. The cast keeps changing. It includes bitter loner Gideon Brood, ex-slave Jerome, Mexican seer Abby, former hooker Maria, and ex-outlaw Clay. The story meanders a bit as the good guys wander into a rough town with a bad sheriff.

The Apache send Abby a summons. When the gang arrives they find the Apache seer Lozen with Geronimo. Geronimo has a simple request: save the buffalo. To do this, the good guys must travel to the Black Hills of South Dakota and unblock the mystical cave through which the buffalo come to Earth. Mixing fantasy with rock-hard knowledge of the west, Mariotte never short-changes the reader and always knows where he's going. Art by Alberto Dose has that slightly loose zen quality that the best illustrators have. A tad Oeming, a little Noly Panaligan. Ten gallon hats off to this team, for Desperadoes is probably the best Western comic out there right now.

A short note on Pan's Labyrinth: see this movie! It is a masterpiece of adult fantasy.
---
Mike Baron worked for the Boston Phoenix, Boston After Dark, and the Real Paper. He broke into comics with Nexus, his groundbreaking science fiction title co-created with illustrator Steve Rude. Baron has written Marvel's Punisher, DC's Batman, Deadman, and Flash. Nexus has garnered honors too numerous to mention, including Eisners for both creators. Baron has written Star Wars for Dark Horse, Turok, Dinosaur Hunter and Archer & Armstrong for Valiant, and has three issues of Legends of the Dark Knight in the works.

A prolific creator, Baron is at least partly responsible for The Badger, Ginger Fox, Spyke, Feud, and many other comic book titles. He currently has two new web comics up at Big Head Press. The Architect is a horror story based on the life of Frank Lloyd Wright. The Hook is rock and roll science fiction - think Farenheit 451 only instead of banning books they have banned music.

Baron lives in Colorado with his wife and dogs. He collects rocks.

Volume 3 out now!



Visit our Comic Book News Archive.