It's all pop culture: Bond, James Bond
by Mike Baron

I grew up on James Bond. Walking into Dr. No at age fifteen in Mitchell, South Dakota, with no idea what the movie was about, I was gob-smacked, my eyes opened to heretofore unfathomable worlds of intrigue, danger, and sex. Every generation has its movie epiphany: Star Wars, The Matrix, Spider-Man.

The new Bond film, Casino Royale, reawakens those feelings. It blows away virtually all of its predecessors, consigning the awful Roger Moore period to oblivion. Daniel Craig is James Bond in a way no one has been able to duplicate since Connery. He more closely matches Ian Fleming's description of the buttoned-down sadist/mechanic in service to the Queen. We talked ourselves into believing Pierce Brosnan was doing the job. No more.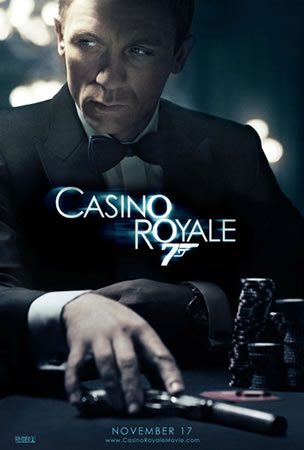 &copy 2006 Sony Pictures


Casino Royale is sleek, sexy, and dangerous. Gone are the smirks that have permeated every Bond since Thunderball ("I think he got the point!") Gone are Moneypenny and Q and all the ridiculous gadgets. What's left is the most exciting action film of the year with some brilliantly staged set-pieces. Bond films have traditionally opened with a bang - an explosion or a chase. Casino Royale takes its time, introducing us to Bond on his first double 'O' mission which leads to a tense meeting with M, played by Judi Dench, the only holdover from previous films.

Bond goes to Africa on the trail of an international money dealer/terrorist. When his subject bolts Bond gives chase on foot in what may be the most exciting Bond chase of them all, incorporating the new French sport of parkour, the art of bouncing off buildings. Literally. The sequence will jazz you out of your seat. (When you recover I recommend District B 13, a film about parkour by the French auteur Luc Besson. Luc Besson is the modern Walter Hill. He's responsible for Unleashed and the Transporter movies.)

Daniel Craig brings smoky menace to the screen, similar to what Robert Shaw brought to his role as Red Grant, the hired killer in From Russia with Love. They've cut down on the ladies, too. Bond enjoys only two romances in this film, the second a serious one with Vesper (Eva Green,) the MI6 agent in charge of purse strings.

The action hinges on a game of Texas Hold 'Em at Casino Royale in Montenegro. The international money dealer/terrorist Le Chiffre can't get enough poker. Mads Mikkelson plays Le Chiffre with an understated chill - he looks a little like Christopher Walken only more menacing. He's the most memorable Bond villain since Goldfinger. The settings are more realistic and breathtaking because of it.

Martin Campbell, who also directed the unremarkable GoldenEye, has turned in a new benchmark for the longest running movie franchise of them all.

Bond is one of those characters who transfers easily to comics. There are comic books of Dr. No (DC,) For Your Eyes Only, Octopussy (Marvel,) and License to Kill (Eclipse.) Mike Grell is responsible for the later, and Permission to Die, an original. Dark Horse licensed the character and turned out several issues up to and including GoldenEye, the last film adaptation.
---
Mike Baron worked for the Boston Phoenix, Boston After Dark, and the Real Paper. He broke into comics with Nexus, his groundbreaking science fiction title co-created with illustrator Steve Rude. Baron has written Marvel's Punisher, DC's Batman, Deadman, and Flash. Nexus has garnered honors too numerous to mention, including Eisners for both creators. Baron has written Star Wars for Dark Horse, Turok, Dinosaur Hunter and Archer & Armstrong for Valiant, and has three issues of Legends of the Dark Knight in the works.

A prolific creator, Baron is at least partly responsible for The Badger, Ginger Fox, Spyke, Feud, and many other comic book titles. He currently has two new web comics up at Big Head Press. The Architect is a horror story based on the life of Frank Lloyd Wright. The Hook is rock and roll science fiction - think Farenheit 451 only instead of banning books they have banned music.

Baron lives in Colorado with his wife and dogs. He collects rocks.

Volume 3 out now!



Visit our Comic Book News Archive.