Men of Tomorrow and Dude news
by Mike Baron

I'm reading Gerard Jones' excellent Men of Tomorrow, his history of the birth of the comic book. There have been other comic book histories, including Les Daniels' ground-breaking Comix: A History of Comic Books in America, The Steranko History of Comics, and From AARGH! To ZAPP!, Harvey Kurtzman's Visual History of the Comics. All three of those books were written by artists, with an overwhelming focus on graphics and artistic innovation.

Jones is a writer, not an artist, and an excellent historian. His narrative links the disparate chain of events, Russian immigrants, the Great Depression, the newsstand wars, Prohibition, that eventually led to the comic book. It's about hustlers and gangsters, Harry Donnenfield and Lucky Luciano, as well as the young outcasts, Siegel and Shuster, who gave birth to the medium's greatest hero.

The book evoked many strong memories for me because I have had the good fortune to meet some of the giants of the industry. I knew Will Eisner as the soft-spoken gentleman giant of the industry. Jones reveals that when Eisner was twenty-two, the studio he formed with Jerry Iger netted a hundred thousand dollars in profit. This was in the twenties when a hundred grand meant something.

Paul Smith and I were at a convention once discussing just how The Spirit insert was distributed. Was it by syndicate? Did Eisner Studios do it themselves? We looked up. Eisner was standing twenty feet away chatting with fans. "Let's go ask him", I said. Alas those days are gone.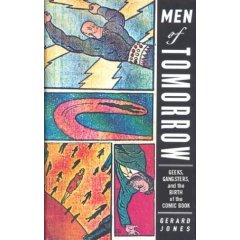 © 2005 Gerard Jones
---

Steve Rude has formed his own publishing company, Rude Dude Comics, to publish Nexus and the Moth. The Dude writes:

Guys and Gals,

My first call was to former Capital Comics publisher, Milton Griepp, to grill him on general overalls of the business climate and how to begin the whole ordeal of self-publishing. One thing he advised is to get on a national website of retailers, who are our ultimate target group, and start the meet and greet with the Dude. Consider it done.

My next call, and perhaps the most important was to key Diamond contact, Jim Kuhuric. Jim is responsible for helping people in my position to succeed. Or as I like to put it, not to fail. Jim and I talked generalities regarding the business model that would most guarantee our success, how best to advertise books with limited budgets, and the special things to motivate the retailers to buy Rude Dude comics. These are part of the business plan that will be ironed out and set into motion before a single book hits the stands. Shrewd and informed pre-planning will precede all business decisions. I want to make sure that when a new Nexus or Moth series is announced to hit the stands, everyone, including Aunt Harriet's dog, knows about it.

When I mentioned to Jim that we were at last returning with Nexus, I felt a moment of phone silence as he got on his knees to thank his maker. He said the Diamond is dizzy with Nexus fans and will crank the hype machine to its loudest amplitude to announce it's re-launch.

He also mentioned that a $4.95 cover price is not the hindrance I thought it to be. Milt also seemed in agreement on this. That's a $2 mark-up from our Dark Horse price.

I'll be leaving for Spain for a 4-day show tomorrow, where I'll be spreading the word. Barring terrorists apprehension, I should be fit to return home on December 12th.

Till next time,

The Dude

---
Mike Baron worked for the Boston Phoenix, Boston After Dark, and the Real Paper. He broke into comics with Nexus, his groundbreaking science fiction title co-created with illustrator Steve Rude. Baron has written Marvel's Punisher, DC's Batman, Deadman, and Flash. Nexus has garnered honors too numerous to mention, including Eisners for both creators. Baron has written Star Wars for Dark Horse, Turok, Dinosaur Hunter and Archer & Armstrong for Valiant, and has three issues of Legends of the Dark Knight in the works.

A prolific creator, Baron is at least partly responsible for The Badger, Ginger Fox, Spyke, Feud, and many other comic book titles. He is currently writing Detonator and Night Club for Image, and is a regular contributor to International Studio, Argosy, Nostomania.com and Popular Polar Bear.

Baron lives in Colorado with his wife and dogs. He collects rocks.

by Mike!



Visit our Comic Book News Archive.