Gun Fu: The Lost City 1
review by Mike Baron

Written and inked by Howard Shum
Penciled and colored by Joey Mason
Publisher: Axiom Comics, Price: 3.50

Writer, inker, filmmaker Howard Shum is one of those guys exploding with ideas, like an expanding universe. His previous self-published comics include Intrigue and Gazillion, both remarkable for their fresh art and Howard's cuisinart pop culture sensibility which is likely to meld Westerns, film noir, and science fiction in the same story. With Gun Fu, Howard has achieved a new mark of illustration excellence. This is the freshest thing since Hellboy and a visual tour-de-force. Penciller Joey Mason has a deceptively simple cartoon style, not quite manga, not quite Looney Tunes, that brims with sharply etched detail. His colors pop. You can look at this comic for hours admiring its design and story-telling.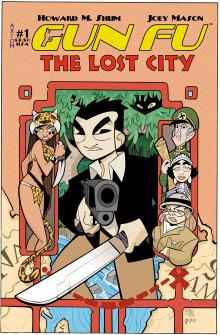 Gun Fu, The Lost City #2, © 2003 Axiom Comics


Story-wise, there's a problem. "The year is 1936 and Cheng Bo Sen is a gun-shooting, kung fu-using Hong Kong cop. He also speaks hip-hop which no one seems to notice..." I noticed. Every time Cheng Bo Sen opens his yap he jars you out of the story. On the first page he gets a call from his boss. "What's up, pimp? I'm down at this joint macking it out...about to get me a little sumpin' sumpin'-you know what I'm saying?" These words, like fingernails on a chalkboard, drag you shrieking from the book. Cheng Bo Sen is the only one who talks like this. Howard, create a persona for Cheng that doesn't derive from Snoop Dogg.

A very young and delightfully rendered Queen Elizabeth sends Cheng on a mission to Peru, where Nazi scientists are searching for an Ark of the Covenant-type weapon. Mason's and Shum's rendering of Buckingham Palace is a stunner, as is their double-page spread of Nazis on the beach. Cannibals in Peru? Well let's not quibble.

This book is easily worth the admission price. It's wall-to-wall entertainment, without any ads. Following the twenty-two page story, Howard and Joey team up for some spot-on caricatures, including James Cameron, Kiefer Sutherland, Lennox Lewis and Adriana Lima. Their caricature work is the equal of Abe Hirschfeld, Gerald Scarfe, or Robert Risko. One can easily see Mason/Shum gracing The New Yorker.

Shum tosses in an interview with Brazilian filmmaker Fernando Meirelles (City of God) as a lagniappe. This is an essential comic for the visuals alone. In the meantime, let's hope Cheng Bo Sen cures his speech impediment. If your local shop doesn't stock Gun Fu, you can order it at howardshum.com.


---
In Dublin City 2

Written and drawn by Gerry Hunt
Publisher: Atomic Diner Comics
Available only in Dublin

In Dublin City is an astonishing slice of magic realism that will captivate those searching for the tang of Ireland. Like the first issue, the story is set mostly in Dublin, and looks like it was drawn from life. Not just from life, but labored over to capture every sweating brick. These pictures aren't merely real. Looking at them, you know the artist planted himself in front of the scene, be it a bar or the docks, and drew until he got it right. Hunt takes a more cartoonish stance with his people, but this is his choice to heighten the hyperbole. There is the artist drawn with utmost realism on the inside front cover. "NOW I'M GONNA TELL YOU A STORY," he promises, and every subsequent page makes good on that promise.

Hunt writes in rhyme. "It was in the month of sweet July/On George's Quay in Dublin City/A brave young tar bid a fond goobye/To his one and only darlin' Kitty. She cried, `Oh John I'm 9 months gone, I'm a holy show and me not married. An' now you're leavin' me here alone to rue the day we ever tarried.'"

Hunt captures something vital in his Dubliners' attitudes towards sex and marriage. They make love as an act of defiance against the shit storm of their lives, even as the men run off to avoid their obligations, thus adding to the shit storm. It's both fatalistic and funny. It's that touch of humor that prevents the story from descending into pathos. Even the wronged women seem to take their lot in stride, expecting little better. But this isn't about how Kitty bravely struggles on without her man. As she perceives her son growing into a lout like John, she resolves to find John, bring him back, force him to be a husband and father.

If you read this comic you will know what Dublin looks like, smells like, and sounds like. Unfortunately, the comic is only available in Dublin. It contains no publisher's address. It contains no e-mail address. It was sent to me by an American friend who lives in Dublin and works in an internet caf?. Brian's tales of Irish behavior are of a piece with this comic. The people who come into his caf? seem obsessed, if not insane. Typical of Brian's letters is the following:

Just made this guy a coffee. I asked if he took milk at all. He gave me this look that was a cross between scorn and that I was an idiot and then pointed at his computer screen. He was writing some sort of flyer for a Vegan Society. I think he was insulted that I asked the question, but I couldn't help but to laugh at him. It was his whole dead serious attitude.

And this is one of Brian's nicer customers. As Brian puts it, the Irish have one foot in the modern world and the rest of their bodies in the nineteenth century. Fortunately, the first issue of the comic lists an e-mail address: sales@ie.agimedia.com.

Mike Baron is the creator of the award winning comic book Nexus and during his career has written an enormous variety of comics from The Flash to The Punisher. He is currently writing Faro Korbit for AP Comics, working on a Green Lantern novel for Byron Preiss, and is working on several projects destined to change the face of pop culture in his secret skunkworks.

Visit our Comic Book News Archive.