The Kirby Book
by Mike Baron

Finally, Jack Kirby gets his due in Mark Evanier's splendid Kirby: King of Comics. This handsome coffee table book makes the case once and for all that Kirby revolutionized visual story-telling. There are generous reproductions of his early work including political cartoons, dozens if not hundreds of covers he drew, previously unreleased material, and art spanning his entire life.

I visited Mark Evanier once in Los Angeles. His home, which had belonged to Raymond Chandler, was like a castle with treasure poking out of every nook. Mark's office in particular contained one high-rise stack after another of original Kirby artwork. I would not be surprised if much of the art in this book came from Evanier's collection.

The text covers Kirby's life from birth to death in broad overview. This is essentially the same material covered by Ronin Ro in Tales to Astonish, but Evanier has his own style and the incidents don't overlap. Ronin included a vignette where Kirby was working at a shop and some hood came in demanding protection money. Kirby went out to meet him. The hood knew at once he was dealing with a tough dude from the streets and left. Evanier doesn't include that incident, but he's also working on a massive biography that isn't due for a couple years yet.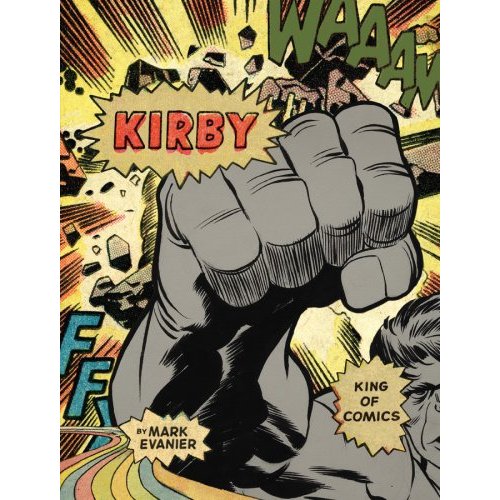 &copy 2008 Abrams Books


My friend and partner Steve Rude made it a point to get to know Kirby in his later years. Dude once told me he and Kirby were talking and Kirby told him how he'd waited in ambush for a German soldier and killed him. Who knows whether it's true, but it makes for a good story. Of all the old-time comic book artists, Jack Kirby seems the most able to kill someone - but only in the service of justice.

I would have liked to have seen more of Kirby's mind-blowing continuity from the Thor Ragnarok story, which I think is Kirby at his best. Unfortunately, the book only covers Kirby's latter DC work in detail. Evanier covers the Marvel vs. Kirby split well without editorializing. The facts speak for themselves.

Other reviewers have weighed in on the cover, which is kind of blah. A giant gray fist takes center stage with some cheesy word balloons. Would the book have done better with an eye-catching cover? I don't know. It's doing well enough among comic fans. The question is will it penetrate the more resistant consciousness of the general public?

In any case, Kirby: King of Comics is an essential part of any serious library on the comic book in America. I look forward to the more detailed biography with the keenest alacrity.
---
Mike Baron worked for the Boston Phoenix, Boston After Dark, and the Real Paper. He broke into comics with Nexus, his groundbreaking science fiction title co-created with illustrator Steve Rude. Baron has written Marvel's Punisher, DC's Batman, Deadman, and Flash. Nexus has garnered honors too numerous to mention, including Eisners for both creators. Baron has written Star Wars for Dark Horse, Turok, Dinosaur Hunter and Archer & Armstrong for Valiant, and has three issues of Legends of the Dark Knight in the works.

A prolific creator, Baron is at least partly responsible for The Badger, Ginger Fox, Spyke, Feud, and many other comic book titles. He currently has two new web comics up at Big Head Press. The Architect is a horror story based on the life of Frank Lloyd Wright. The Hook is rock and roll science fiction - think Farenheit 451 only instead of banning books they have banned music.

Volume 3 out now!



Visit our Comic Book News Archive.